If you're new here, you may want to subscribe to my RSS feed. Thanks for visiting!
In less than 6 days the Norwegian hacker, Jon Lech Johansen managed to hack the Apple iPhone.
A lot of hackers tried to be the first one to hack it, but DVD Jon was the first one to bypass the activation codes. In order to hack the iPhone you have to use a program called Phonce Activation Server 1.0 and some "magic numbers".
After the hack the iPhone can be used as an iPod, to browse the net and read mails using WiFi. You still have to activate the iPhone, in order to use it as a phone.
It won't be long before the SIM-card is hacked too.
Another way to avoid activation is to use a SIM-card from an already activated iPhone, but you can read more about that on the Apple iPhone Hack WiKi.
If you enjoyed this post, make sure you subscribe to my RSS feed!
I've got a confession to make. I didn't fulfill last week's motivation, so Denmark lost the soccer match to Sweden.
BUT fate sure has a VERY special way of showing me. What caused all the commotion? I forgot to do my exercises. You don't want to miss the movie at the end of this post.
Monday:
Is over
Tuesday: (Danish Constitution day)
Write a blog post
Referee two soccer matches
If you enjoyed this post, make sure you subscribe to my RSS feed!
Yaro Starak has written a free 50-page blog report called Blog Profit Blueprints.

The report explains how he made $6549.52 in one month, how to build traffic, how he makes money blogging and how to increase traffic. These are just some of the topic in the report. Besides that he has started a Blog Mastermind Group, where he will be your blogging mentor. Yaro will send E-lessons to your email with activities in each lesson. You can read more about the Blog Mastermind here.
In the meantime go ahead and download the free report. It is filled with some really interesting ideas and articles. I can see that I still have some way to go, but I think I know where I can improve now.
If you enjoyed this post, make sure you subscribe to my RSS feed!
From time to time I come across different blogs that shows you how to generate more traffic. I recently stumbled upon Yaro Starak's blog and found some rather interesting tips. He is about to launch his Blog Mastermind-program, which I will give you a preview of here:
"In every bloggers life comes a special day - the day they first launch a new blog. Now unless you went out and purchased someone else's blog chances are your blog launched with only one very loyal reader - you. Maybe a few days later you received a few hits when you told your sister, father, girlfriend and best friend about your new blog but that's about as far you went when it comes to finding readers.
Here are the top 10 techniques new bloggers can use to find readers. These are tips specifically for new bloggers, those people who have next-to-no audience at the moment and want to get the ball rolling.
It helps if you work on this list from top to bottom as each technique builds on the previous step to help you create momentum. Eventually once you establish enough momentum you gain what is called "traction", which is a large enough audience base (about 500 readers a day is good) that you no longer have to work too hard on finding new readers. Instead your current loyal readers do the work for you through word of mouth.
If you enjoyed this post, make sure you subscribe to my RSS feed!
Inspired by Wendy Piersall's post "What's on Your To Do List? Let Pool our Resources" I've spent the most of the morning figuring out how to create one.
I've decided to create two tutorials - One for the technical-minded and one for the lazy man/woman.
Let's start with the one for the lazy man/woman:
And now for something completely different - The technical guide:
If you enjoyed this post, make sure you subscribe to my RSS feed!
Based on the success with the previous article about how to improve Joost performance. I have created a Top 5 list over the five busiest threads on the Joost support forum and of course the solution to the issues.
Good luck and let me know how it went and if I missed anything.
So what do you think of Joost? Does it need improvement? More channels? Did it live up to your expactations?
Update: Windows audio tweak is updated.
If you enjoyed this post, make sure you subscribe to my RSS feed!
I just found this tool, Website Grader, that will look at the current status of a website, no registration or email address required.
It takes about a minute to process a website, but after that it will provide you with a lot of useful information. For instance your Alexa rank, Google Page Rank, Tecnorati Rank, Delicious Saved Count and Meta-data. On top of that it gives you a Website Grade. The grade is calculated from the 25,000+ websites that has been submitted to Website Grader and compares your marketing value to theirs. The algorithm uses a proprietary blend of over a dozen different variables, including search engine data, website structure, approximate traffic, site performance, and others.
In the analysis proces you can supply your competing websites and compare your competitors stats to your own. Since I have no real competitors (well not that I know of) I submitted the two sites from my Blogroll, Connected Internet and SMOblog. You can see the analysis results with the meta-data, Website Grade, Page Rank, SEO and so forth here.
If you enjoyed this post, make sure you subscribe to my RSS feed!
Fear not its not just for moms. As you know I am going to be an eDad in September and I'm still allowed to read the site.
eMoms features alot of brilliant articles, idea, Wordpress tutorials and how to monetize your blog.
eMoms are celebrating their 1st anniversary this week (Congratulations!) with several contests.
This is copied from the birthday post: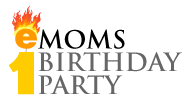 "Well, I'm wrapping up Advertising and Affiliate Week, and it's been a bit hectic - so I haven't been able to put up as much material on these topics as I would have liked. Nonetheless, next week we'll be talking about blogging and social media as we wrap up the eMoms Birthday Party Contest (and I'll have plenty of time to write more and more about this stuff in the future!).
Monday we'll be celebrating the Blog Birthday by giving out the following prizes:
A FREE copy of Uncommon AdSense - by Eric Giguere
2 FREE years of GoStats analytics tracking from Richard Chmura
A FREE SEO site analysis and improvement plan from Viperchill
(I know, I know, better late than never!)
FREE hosting for a year from Bill Hartzer
The book Meet and Grow Rich by Joe Vitale and Bill Hibbler
A $500 Coupon off of a ticket to Elite Retreat donated by the Elite Retreat founders themselves!
If you enjoyed this post, make sure you subscribe to my RSS feed!
Everybody is talking about so of course I have to talk about it too.
Twitter!
At twitter.com you can make sure your friend, blog readers and voyeurs always know what you are doing.
Oh I forgot I have to update it…I'm posting a on my blog..ARRRGH..now I'm publishing it…argh…most update again.
For those with infinite time. Go here twittervision. Its one of those Google maps with except every time some updates his/hers twitter it shows on the world map.
If you enjoyed this post, make sure you subscribe to my RSS feed!
Here is a collection of Google Adsense advice and help that I have assembled from the web. I found several of them on various other blogs.
Starting up from scratch
Google Adsense - Quick Introduction
Adsense Introduction: What is Adsense?
Google Adsense and Wordpress - Does it make cents? (Wordpress)
Starting your Adsense business with free blogs (Blogger/blogspot)
Google's heat map
After that, try this post: How to make money with Google Adsense
General tips/collections Note that some tips are recycled
Google Information for Webmasters
Adsense tips for bloggers
Google Adsense Optimisation tips
Adsense secret tips and optimization tricks
Adsense tips to increase your revenue
Read more
If you enjoyed this post, make sure you subscribe to my RSS feed!